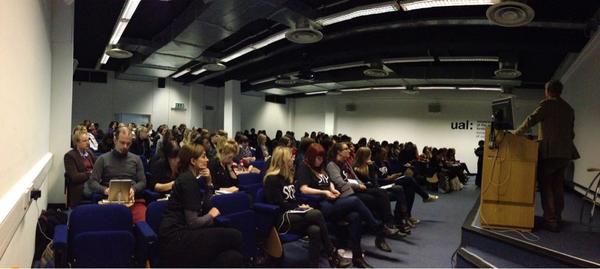 The 3rd November saw me boarding a train to London to attend the SYP's annual conference – Beyond the Book. There was a choice of several seminars lined up all of which were so interesting it had been hard to decide which I wanted to attend when I registered.
The opening debate was led by Julia Kingsford, Sarah Taylor, Laura Austin and Trevor Klein and was titled 'Game Changers'. What a start to the day! There was so much going on that I will touch on some of the most memorable parts of the day for me.
First to speak and one of the most memorable was Julia Kingsford, World Book Night's Chief Executive. She started to speak about how it was part of her job to try to get more people to read stating that stories are universal and timeless; we've been telling them since we were sat around campfires, so why are so many people excluded in our modern world? One in three homes in the country do not own a book, which is a shocking statistic. Approximately one quarter of the population do not have adequate access to the internet or digital equipment and so to encourage more people to read they hand out books in their physical form. Having acknowledged that the physical book is still an essential part of our culture the debate moved on to the next three speakers Laura Austin, Sarah Taylor and Trevor Klein who discussed apps, interactive eBooks and self publishing.
My first seminar was 'Interactive and Social Reading' and was taken by Andrew Rhomberg , founder and managing director of Jellybooks, and Jon Ingold, who is the creative director of Inkle. First to take the stage was Andrew Rhomberg who started the presentation with an adapted quote of Churchill: 'This is not the end, not even the beginning of the end but then end of the beginning of the digital revolution'. This, I thought, was a lovely and positive outlook on the digital changes and adaptations in publishing. Rhomberg continued to discuss how the one of the biggest problems that publishers face is discoverability and proceeded to state he thought that Amazon's search was not up to scratch. Therefore, he created Jellybooks; a simple, easy, responsive design that gives the user an effortless browsing experience. It has infinite scrolling – the page will never end – that gives it the feel of browsing shelves in a bookstore. He feels that now more than ever the cover design is of utmost importance if a book is going to succeed. He warned of the old saying 'never judge a book by its cover' but still stressed that images stimulate the mind; one picture can say a thousand words.  The cover will draw the reader, enticing them to sample the book and perhaps buy later. There are only four buttons: sample: share: buy: deal. There's no fuss. Rhomberg's idea of deals and social reading was interesting. The idea of structuring them around the commute lets the user browse and sample the books that they want but if they want to participate in that day's deal then they have to share it. If Jellybooks receives enough interest on a particular title then those who selected it will get the deal of a half price book for the commute home. If there is not enough interest shown then Jellybooks do not say sorry but that the consumer should share the book more next time. A clever concept – the consumer markets your book for you.
Co-founder of Inkle, Jon Ingold, is a games designer and mathematician. He sounds like an unlikely person to be interested in the world of book publishing but by the end of his talk he'd changed our minds, as Alastair Horne tweeted 'very few developers, in my experience, really 'get' the actual nature of reading; Ingold clearly does'. Inkle specialises in building interactive and narrative driven apps for web and mobile platforms, such as the hugely successful Frankenstein app. One point that Ingold stressed was his belief that reading is not a passive activity, as is so widely believed, and it is through this belief that he has come to successfully understand the expectations of the next generation of digital reading. When you read it is your mind that creates the characters, the scene and the atmosphere but digital is now enabling that to be brought into a visual reality. Personally, I can't help but wonder if this is a good thing. What about imagination? There's nothing more disappointing than finding a different version to what you experienced. The way we read is certainly going to be changing. I'm yet to be completely persuaded from what I grew up with but if these books get more people away from the TV and into stories then I have no complaints!
I attended two other seminars, 'Beautiful Books' and 'Beyond the Textbook', which were both equally interesting but it was really the 'Social and Interactive Reading seminar that stood out for me – leading the way forward. The day ended with drinks in a nearby bar, which would have been a perfect opportunity for networking but I unfortunately had to board my train home. There is so much to learn and so many lovely people to meet that it was sad to leave. If anybody were to ask me if I recommend it my answer would undoubtedly be yes! Thank-you so much to all those at SYP!